Saturday Night
It was a bit of a rush to get myself back and prepared for the evening session at the hide; a short hour away at the hotel to stuff my face with sandwiches and rest my eyes disappeared before I knew it. Scrambling back up the muddy track to the hide just before 4pm, I was met with a new hide-mate; one of the people from next door! Unlike the rest of his compatriots, he was a Nikon user like me, which got us chatting a whole lot about the brand and how we use it. I am so thankful he was there, as if I was left alone, I fear I might have missed everything!
So Alan set up the station again as I arrived, placing a series of hugely bright LEDs around the grounds to give continuous light. It seems like such a small point, but it was further proof to me about Alan's care and professionalism with his set up; by setting it this way, we wouldn't have to use flash, and risk causing damage to the sensitive eyes of our subjects. On top of that, Alan took a moment to come and chat to us all, advising how we should shoot for the best shots and taking questions. With a friendly grin he was away like the Cheshire cat, fading into the dusk as silence crept over the forest again.
We were set to anticipate the arrival of the tawny owl first; I kept my ears peeled for any calls, and every so often I'd have to turn away from the chatting of my buddy to listen closely to something I'd heard. For the vast majority of the time, the quiet was permeated only by the squeaking of rodents. I remained ever hopeful that their constant calls would attract the owl, but with how distant her calls continued to be as the night drew on, it seemed unlikely she was ever going to appear. However, as the two hour mark passed us by, another evening visitor made his appearance.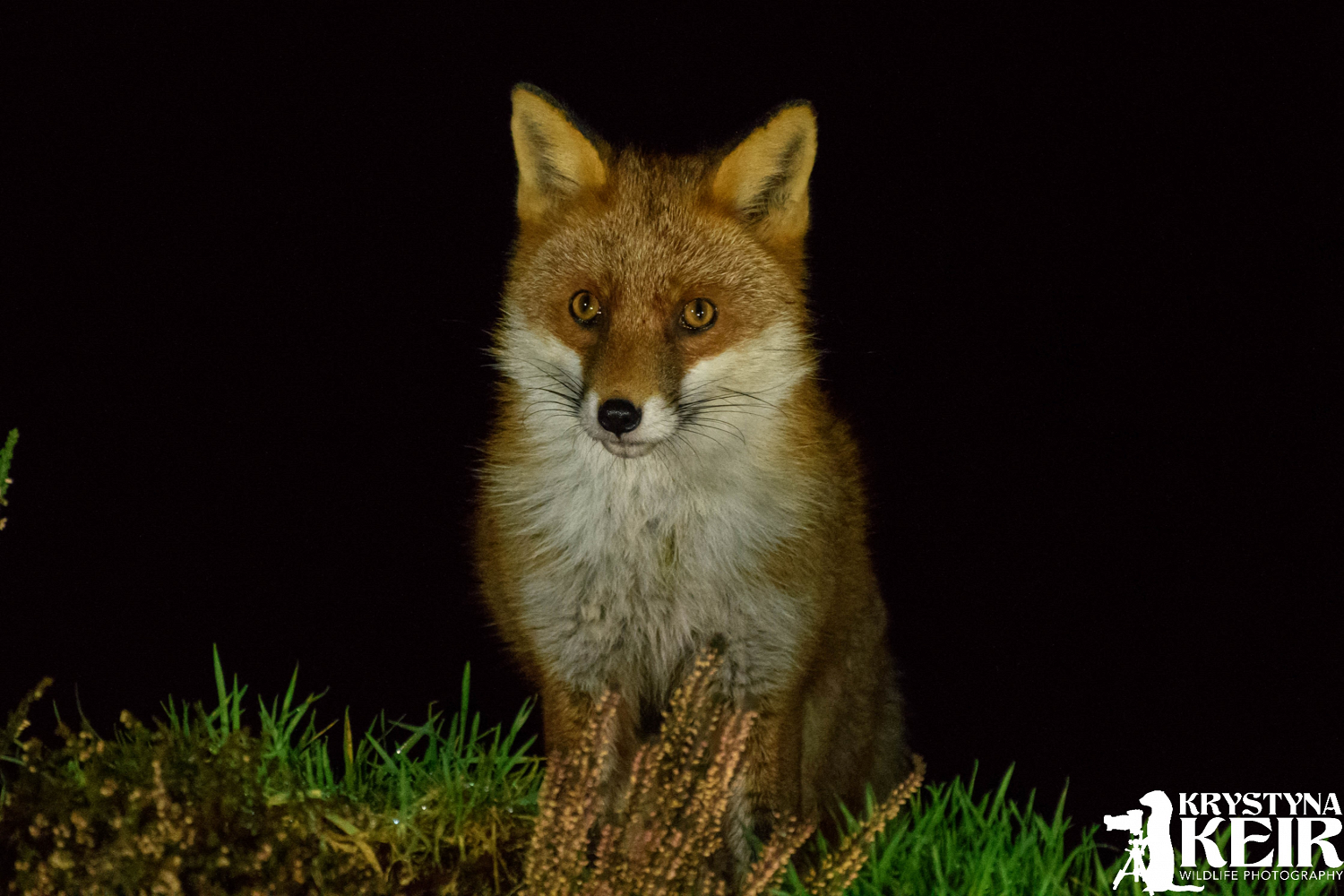 Out of the corner of my eye, an orange shadow lingered on the hill; as it trotted closer to the lights I felt my sagging eyelids snap open. "Fox! Fox!" was as much as I could force out as I continued to watch him. Calm as you like, the fantastic mister fox clambered onto where the bait had been set, taking a moment to have a sniff before snapping up a piece and running off a bit with it. It took all of my willpower NOT to snap him in this sensitive time; doing so while he was still wary risked scaring him off completely, and given the lack of success shooting the owl, I was not about to screw this up - for myself or anyone else! The fox, now less wary, made several more visits for midnight snacks, allowing us a fantastic look at him for about 20 minutes before, much like Alan had earlier, disappearing into the dark.
Sunday
This was the day I was really looking forward to; a day in the Kingfisher hide. In stark contrast to the previous day where I always had company, today I was alone. At first, I thought this would have been perfect, that I could have the hide however I liked, all the space and all the quiet, but actually, once Alan had left me once again, it was lonely. I had spent nearly 12 hours the day before in the company of some truly wonderful people, and without them, the hide was quiet and the downtime tiring. I never thought I'd ever be saying that!
Anyway, it was a slightly later start for the Kingfishers, and I had the perches set up just as I liked them; Alan's wonderful new hide came with an assortment of fantastic and varied perches to choose from, and I was excited to try them out. To do that, I needed my subject to arrive; the area was frequented by a male who was fairly regular to the perches, so it was just a matter of when he would turn up. About an hour after my arrival to the hide, he appeared, in all his splendor, choosing the smaller, lichen covered branch from which to call from; his flurry of cheeping calls were met with a small series of shutter clicks. He didn't hang about though, making two short dives before disappearing down the length of the river and out of sight. Giddy with excitement, I played about with some settings while I waited for him to return.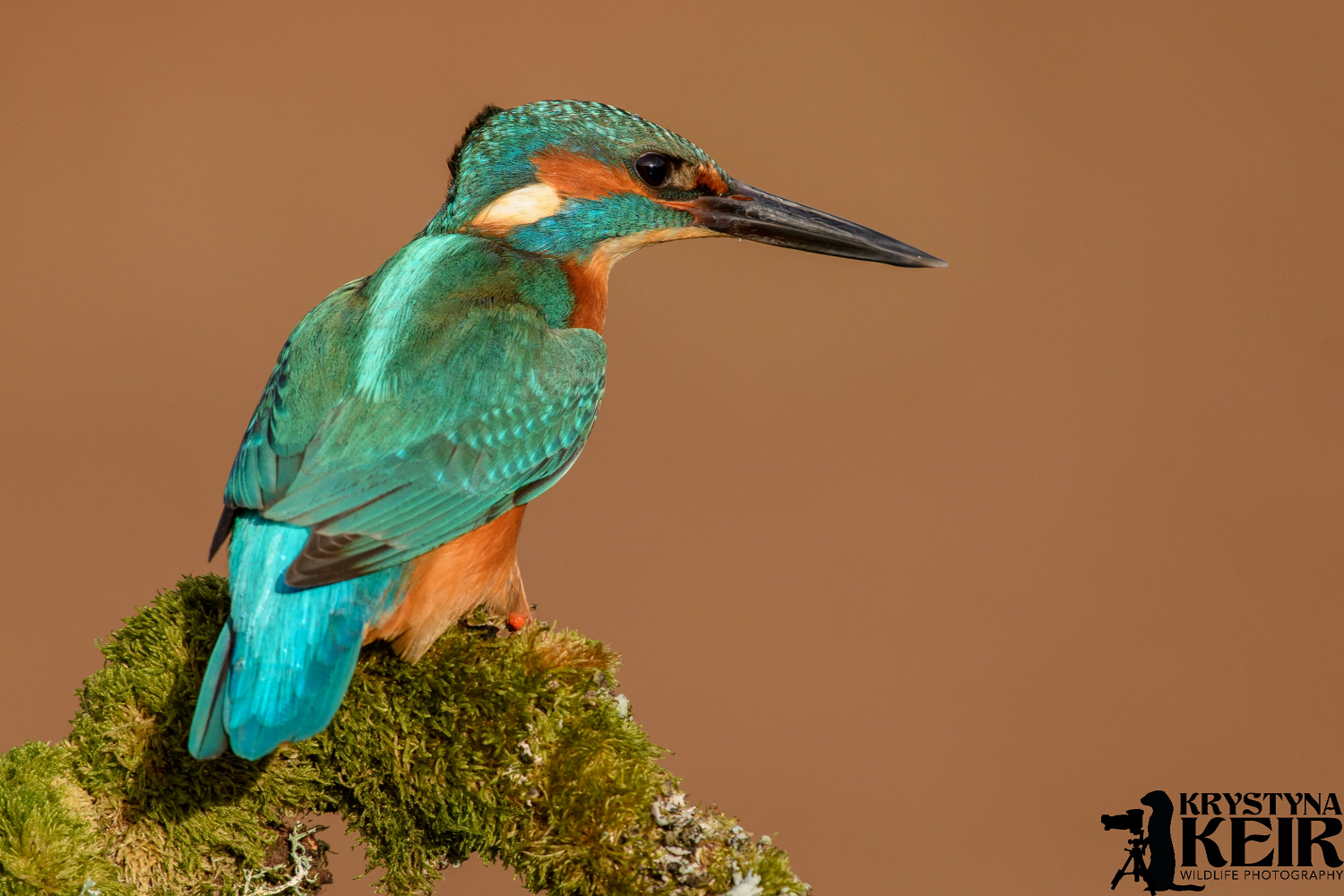 It took a long 3 hours for him to return, but he did it with style. Adjacent to the perch set up was a long board, which he was sitting at the end of; I heard his calling, and immediately scanned the surrounding area for him, but didn't see him. It wasn't until he bobbed his head that I saw him, and he continued to call loudly as he made his way to the perches again, as if I was the one that was making him wait! He had a look into the water, made a couple of quick dives again, and was off once more. It was frustrating to watch him carry fish away, knowing I wasn't going to get that shot, but as the light continued to get better with the appearance of the sun (unexpected when the forecast was beyond grim!), I remained optimistic, if worn out.
Another hour went by before a flash of blue lightning caught my eye; the sun had dropped behind the hide, drenching the perches in shadow. As I took my shots, I felt a pang of sadness; they were dark, the colours of this magnificent bird muted by the encroaching shade. When the kingfisher disappeared again, I resolved that my hide day had come to an end, and that the 70 photos that I had from the course of the past 5 hours would have to do. I didn't get a dive shot or a shot with a fish, but I'd gotten a couple of stunning angles on perfect perches with some very flattering light, and for me, that was enough. A wistful smile on my face, I shouldered my camera bag and prepared for the journey home after a fantastic, memorable weekend.
A huge, huge thank you to the absolute gentleman that is Alan McFadyen for the use of his hides and his constant approachability and professionalism throughout; his hides are fantastically set out and I recommend anyone who has the money or the chance to leap at the opportunity to use them. I didn't have the luckiest of days, but I still came away with over 1.4k shots (most of which were crackers) and some wonderful memories. When I find the time again, I will almost certainly be back.