The first wonder for me this weekend was figuring out how to pronounce where we were going; in the land of silly names, down near the borders, I was on the lookout for a selection of avian delights. We arrived in Kirkcudbright (pronounced: cur-could-bray) in the Dumfries (pronounced: Dumb-freeze) area after a grueling nearly 2 hour journey at 6.30am; my other half had elected to drive, and I was glad that he did, as the 4.30am start proved to be almost too much for me before we even got to the meet-up point! It was at this moment that two days of excitement, exhaustion, and a whole lot of waiting began. 
Saturday Morning
The targets today were ones that many garden-owners will be familiar with - sparrowhawks. We met up with Alan McFadyen of Scottish Photography Hides at the arranged meet up point, and followed him into the nearby woodlands where he had an impressive hide set-up going. At 7am however, it was near impossible to see, as it was pitch black and the local female tawny owl was still calling nearby; it could easily have been midnight, and frankly it felt like it! Alan set myself and my hide-mate for the day, Mark, up in the spacious lodging before hopping off to set up the station for us. 
When Alan left, everything was eerily still and quiet; the owl had taken herself to bed, the sky was slowly brightening, and a fierce wind started building up over the treetops. Just sitting in this experience was enough to wake me up immediately, listening to the forest gradually come to life with the dawn. We wouldn't have to wait long for our first visitation either, as an hour after sunrise, a juvenile sparrowhawk swooped in out of nowhere. He initially perched on the feeding table nearby, totally disinterested in any of the bait, but instead electing to hunt for himself. He pounced like a jaguar onto the ground below, snatching at the pile of sticks where movement had caught his attention. Unsuccessful, he returned to a perch closer to his target, just to the right of us. Another attempt, and another failure, and he was off. Mark and I laughed about what we'd just seen, and how lucky we felt, taking a moment to reflect and anticipate what might happen next.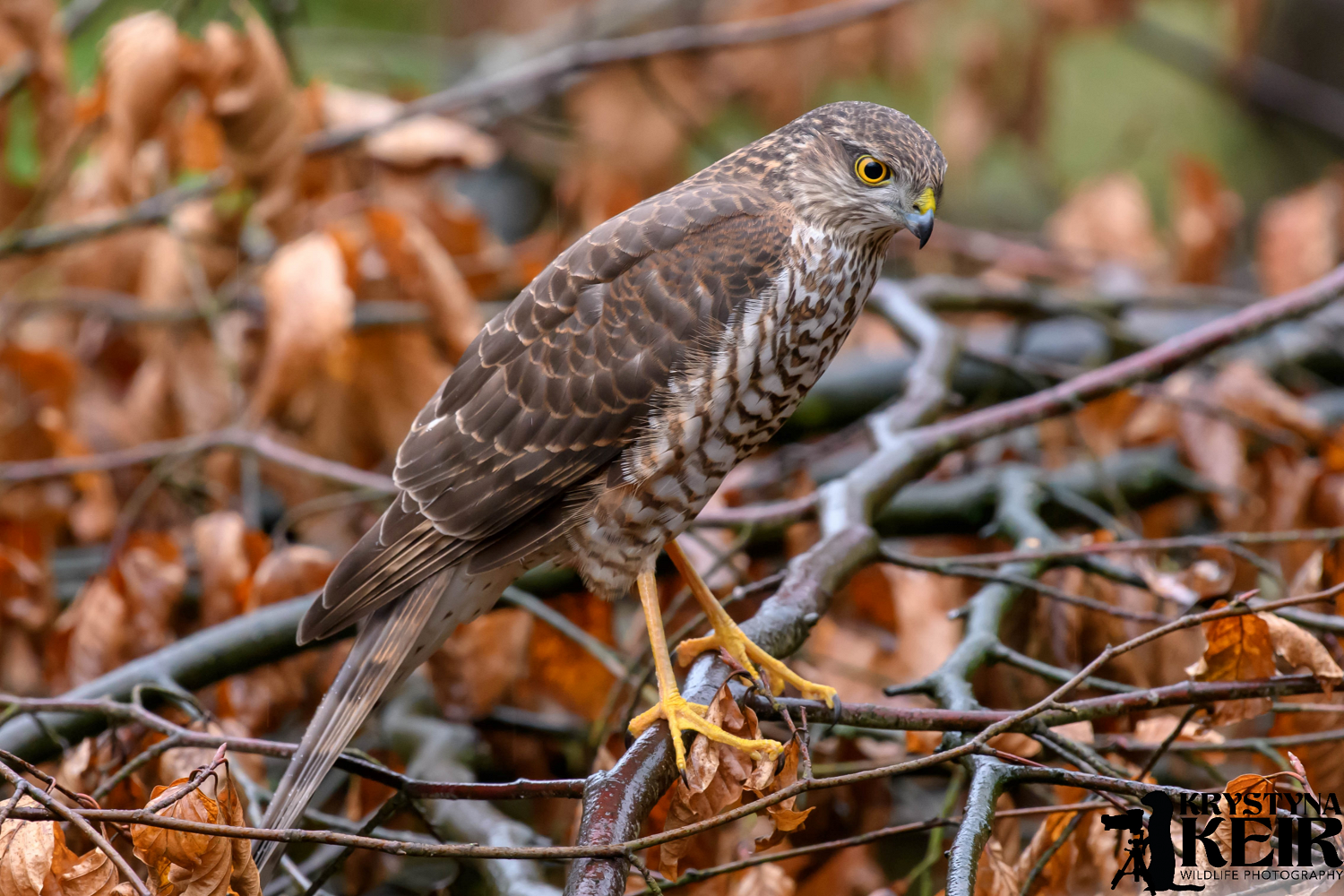 It felt like an eternity before our next visitation, but in reality, it was only around 40 minutes. In that time, another group had arrived and settled into the hide next door. Luckily for them, it was only 20 minutes into their stay when the male sparrowhawk arrived! He swept from the trees on our right like a majestic kite, claws aimed directly at the feeding post. He took a moment to survey the area around him for competition before tucking in, that powerful beak ripping away as his long talons flexed and adjusted constantly to maintain grip and balance. His meal would be rudely interrupted, however, when a large female descended upon him. As she was easily a head bigger than him, he could put up little more than a short fight for his snack before flying off in defeat. Unwilling to take a beating herself, the female immediately wrenched the bait from the post before disappearing into the woods again. A tense ten minutes had passed in the blink of an eye.
Things went quiet again for a while on the sparrowhawk front; but you know what they say, "when the cat is away the mice come to play", and play they did. They weren't mice, per say, but squirrels! About 5 at best count ducked and dived around various points of the feeding station, snatching nuts to eat and in some cases bury. Whenever two arrived at once, there would be a squeaky spat to determine who would be lucky enough to eat, with one squirrel standing proud with feet and tail beating the ground in victory while the other fled. If there were no squirrels, the local woodpeckers would make an appearance, swooping in to take suet from a nearby tree. The jays even made a fleeting visit, but didn't stay long; we shortly found out why.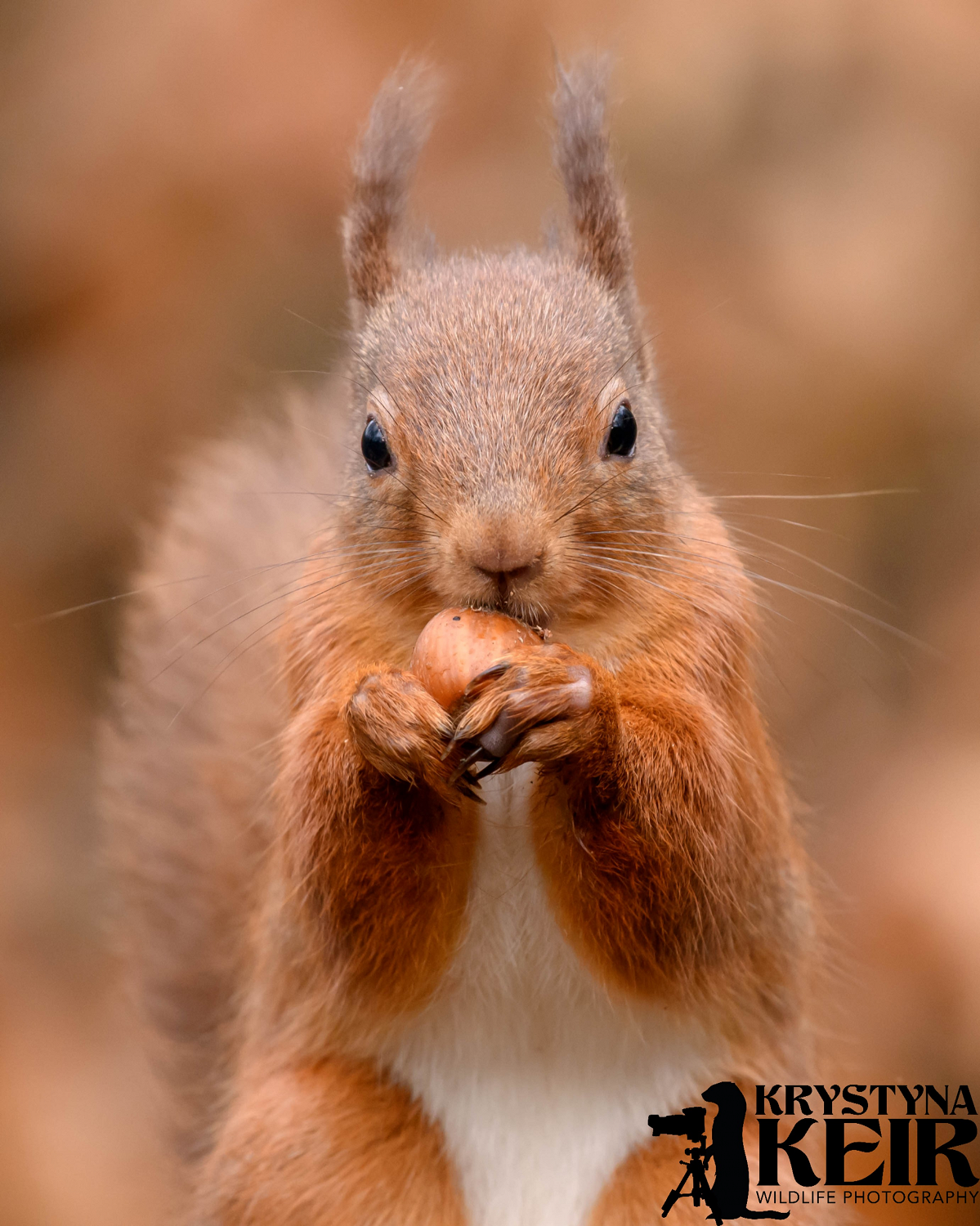 Shortly before 2pm, I was beginning to pack up to get some rest and food before the evening's excitement, however, as is usually typical when I start to leave places, things kicked off again. The female sparrowhawk appeared again, returning to the perch she had cleared earlier. It was absolutely hammering it down now, and it was obvious that even the sparrowhawk was feeling a bit down about it, as she squinted into the rain. Like before, she didn't hang about, turning her back to us and sweeping off again, taking another mouse with her. That was the last I would see of the hawks, but I was told upon my return to the hide that evening that I had missed the male returning briefly again too; I think as much as I would have loved to have seen him again, my stomach's wants were a bit more pressing!
Now if you thought that was long, that's just a synopsis of the SATURDAY MORNING of my weekend mystery tour! If you want to read about what happened next, make sure you click over to part 2 of this blog, it's a doozy! If you'd like to check out some more Sparrowhawk shots you can also head over the my Facebook page!