It's been a long time since I've been as far with my camera as I was this week - and similarly about as long since I've felt so much pain for my craft, but it was all worth it! Another trip to Argyll, another outing with the marvellous Philip of Loch Visions, but this time not for otters, but for one of autumn's most intimate and adorable occasions - the grey seal pupping season. After a miserable week of weather, I wasn't holding out much hope, but nature had other plans for us.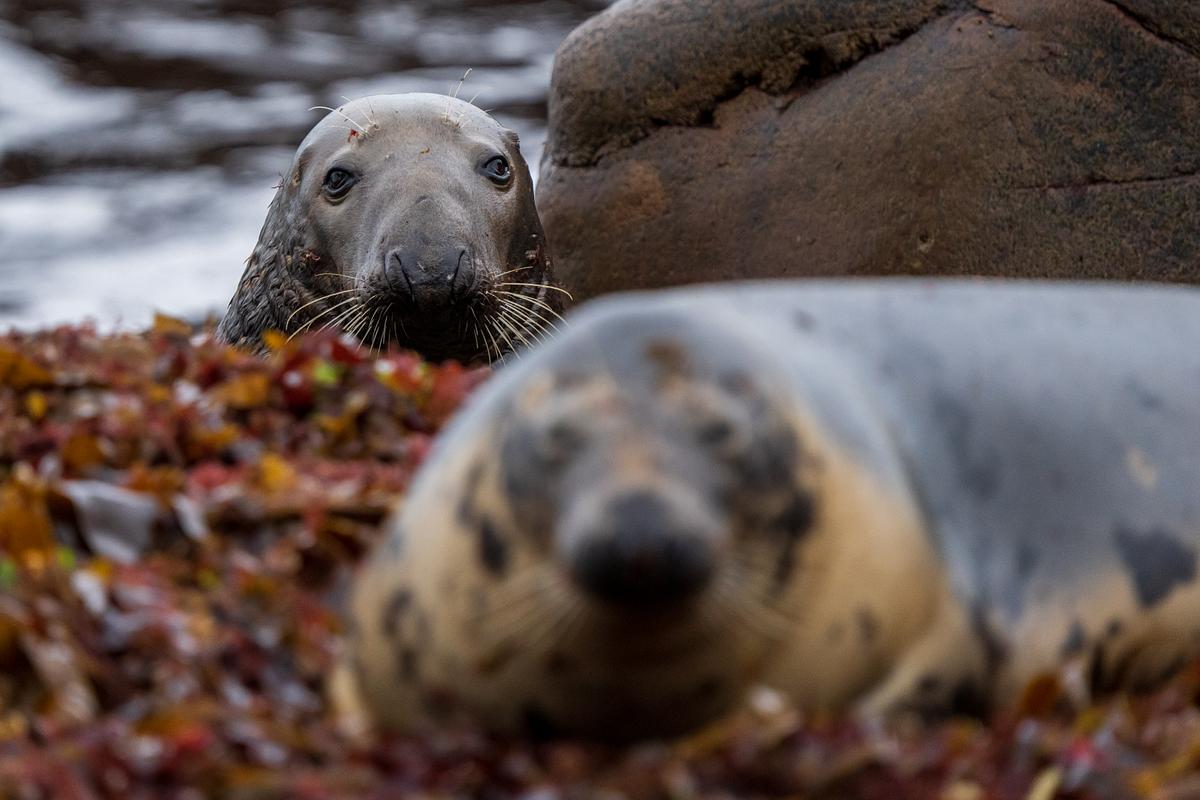 The journey to the secluded beach was nothing short of arduous! I am by no means the fittest person in the UK (certainly not after lockdown, eek!), but even still, this was no park-up-and-donder-down kind of deal! Traipsing through bog, forest, and heathland hill, we eventually made it down to a small, muddy rock beach with Northern Ireland on the horizon. The views, no matter the angle, were absolutely stellar. A brief crack in the overcast sky would treat us to a beautiful sunrise painting the clouds pale orange, the dark blue sky beneath them with ombre streaks. Grey-brown waves would gently lap the shore, sweeping seaweed to the stones, occasionally ferociously battering the rocks with a thundering roar. But despite the scenic beauty around us, truly the best sights lay directly in front of us, wide, black eyes as transfixed on us as we were on them. Seal pups of various ages and sizes, though all under a month or so old, made themselves comfortable in the wrack, observant mothers dotted between them.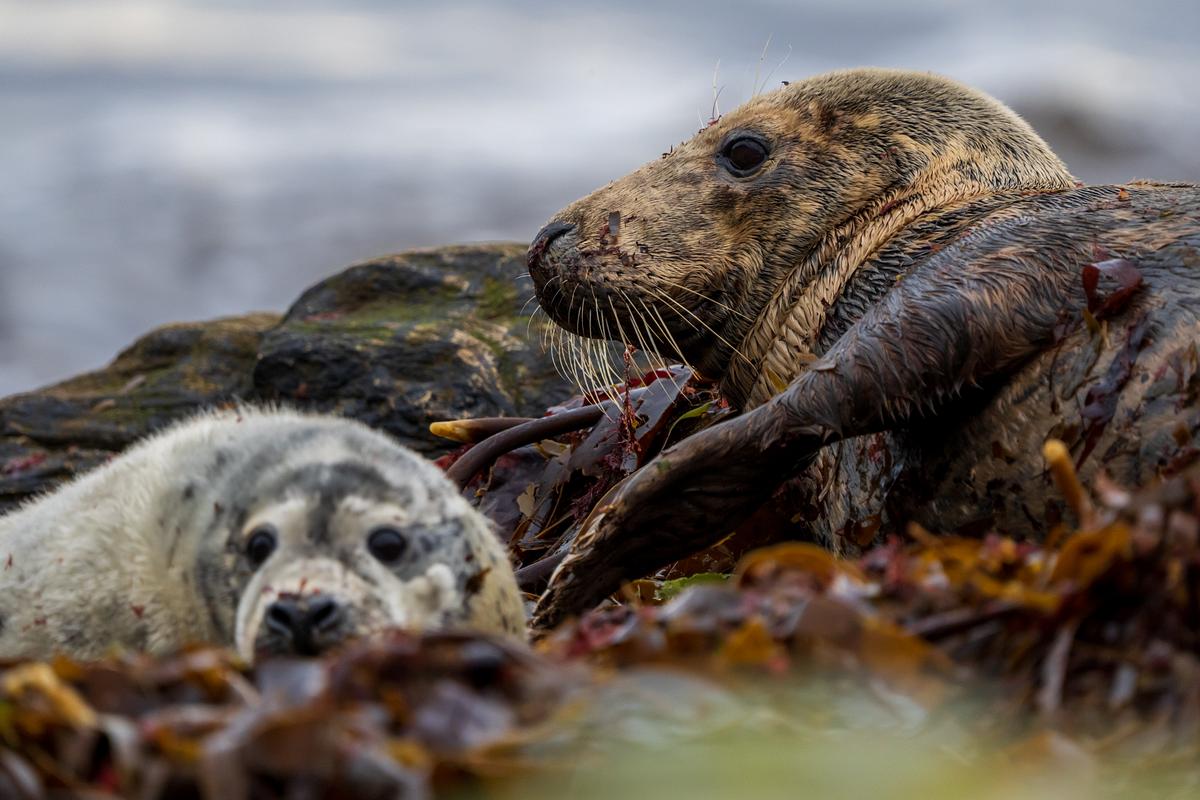 The sense of ease was almost immediate. Philip cautiously guided us down the tricky terrain, giving us the best hints and tips on how to move around these massive, yet very easily spooked, mammals. We managed to situate ourselves against a large rock, and as we breathed a sigh of relief, the seals seemed to as well. Curious pups wriggled their way around the beach, some coming closer to us to see for themselves what these three, weird-looking, hairless seals were doing. Mothers flattened themselves against the seaweed, reacting only to the calls of their hungry pups. On two different occasions we observed suckling behaviour, which was such a privilege. Every so often I couldn't help but just put my camera down and take in the moment. Leaning myself down to lie flat against the stones, staring at the sky, I could have stayed there like those seals forever. That was, until the drama broke out - while it is pupping season, it is also around the time when males will be trying to mate the females for the next season. As with any kind of courtship, but especially when those protective hormones are at a high, it's not an easy affair.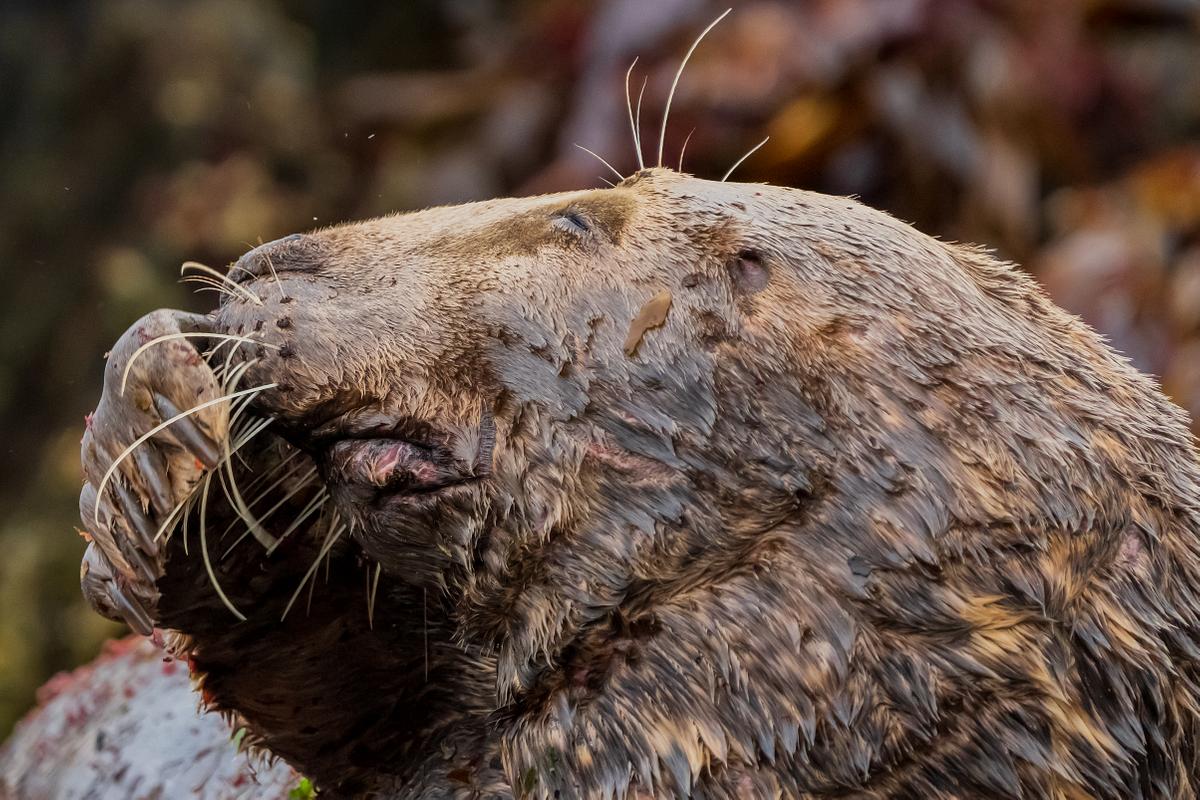 The beach was the prowling ground for two large males on this particular day, neither of which established themselves as a "beachmaster" of any kind. While usually it is the males who compete among themselves for dominance over the females in their chosen domain, most of the combat that occurred over our time watching them was between the suitors and the objects of their affections. On at least three separate attempts, the males were viciously rejected with bites and swipes from the females - before they even attempted to make a move! The larger females on the beach, still with pups at their side, wouldn't even tolerate them being nearby, growling and hissing as soon as they came ashore. Any female too docile to fight back simply raced back into the tide, and with that, both males eventually found themselves flopped out on the seaweed, one surrounded by disinterested pups, the other given a wide berth. It was interesting to see this behaviour, and as Philip explained, it is likely both males are still too young to truly be disputing any kind of breeding rights - most "beachmasters" tend to be over 10 years old!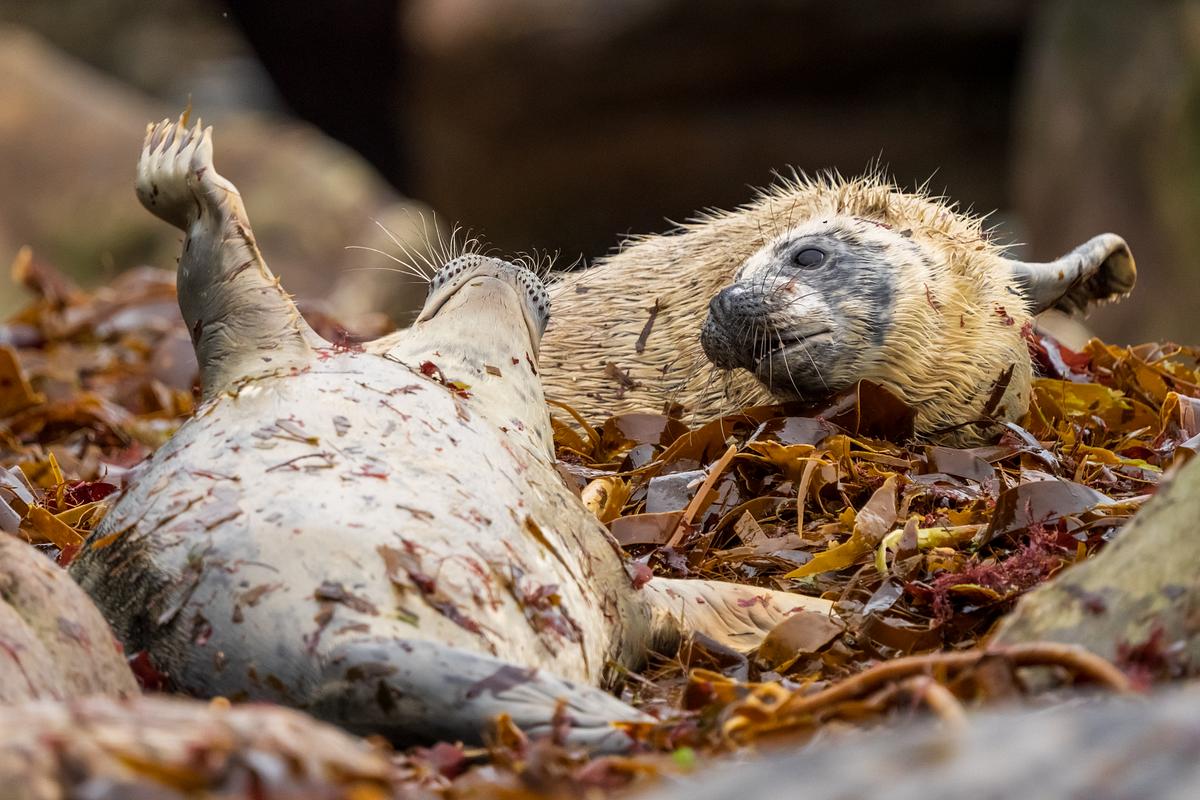 Of course, the pups themselves were the highlight of the day. Even on this tiny patch, pups of every age were visible - from the fairly fresh fluffy pups to those who looked like miniature versions of their mothers. There were five in particular who caught my eye, and they will all be featured in the Marvellous Mammals gallery. The first seal pup we met - who I nicknamed "Rusty" in my head as they had had a wonderful time soaking in the coppery mud near where we were - was very content to sit and watch us, and even when they moved, they were never far from our position, always watching. Then the two above, so different in appearance but likely only a week or two apart in age, were almost like siblings - the younger, fluffier pup would chase the larger, moulted pup wherever they went, trying to initiate play (and sometimes, successfully!). A delightful, black pup made me smile the whole day, playing about in the seaweed, tossing it around and adventuring the world with his mouth. Whenever I looked over, he was always up to some mischief (mother will have her flippers full with that one!). And lastly, of course, one of the freshest babies on the beach, curious and adorable in spades. Whenever it wasn't suckling from mum it was staring at us, rolling around on its back to get a better look at us, or simply snoozing in our company. Seeing each of their little personalities was wonderful, and gave me truly a new-found level of love and appreciation for these wonderful animals.
The trudge back up to the car was long and a bit of a struggle, but as you can guess from my writing this, we made it! And not only were the seals worth it, but we were treated to the spectacular sight of a golden eagle soaring overhead as we made our way back. Trip after trip, I've always seen something new with Philip, and this time, evidently, was no exception! A brilliant end to an already brilliant day. Thank you once again to Philip for his wonderful guiding and expertise, his informative chat, and gentlemanly conduct. A man of many talents who I can recommend whole-heartedly once again for this fantastic experience! Make sure you check out his link at the top of this blog, and also check out the amazing work he's involved in with Seawilding! 


A/N: Please remember that this trip was conducted under the guidance of a professional, and should not be attempted on your own without knowledge of fieldcraft and grey seals. These are dangerous, unpredictable animals, and photos were taken at a healthy distance with the animals' welfare constantly at the forefront of the experience. Please respect our local wildlife and keep a safe distance so as not to spook seals on shore. Thank you!