So I'll preface this blog with a few choice words that summarise the experience; photography of mountain hares is not for the faint of heart or legs. "Oh but Krystyna," I hear you think to yourself, "you can barely walk the length of yourself without losing your breath!" And I hear you, I am probably the most unfit 20-something wildlife photographer this side of the Moray Firth (at least!), so how did I manage to haul myself up high enough to see the hares? Well, read on and find out!
A good basis for any foray into the unknown is a good guide; I'd been on excursions to other regions in the Highlands in search of mountain hares, but this adventure into the wilds of Glenlivet was foreign in every aspect. My choice of guide was David, of Glenlivet Wildlife; he runs a winter hare safari aimed at finding and seeing these beauties in their white coat, so it seemed that he would be my best port of call. His trips are relatively inexpensive too, and with not a lot of change to line my pocket at the moment, it certainly helped that I could go on this trip with my husband (for a change) without breaking the bank! From the get-go, meeting up with David and travelling with him in the Land Rover, he was a fountain of local knowledge; telling us about the area, its history, the wildlife, it was non-stop! By the time the trip was over, I felt like I'd learned a lot about the estate and its environs, as well as a bit of fieldcraft, all while having a good laugh and chat throughout.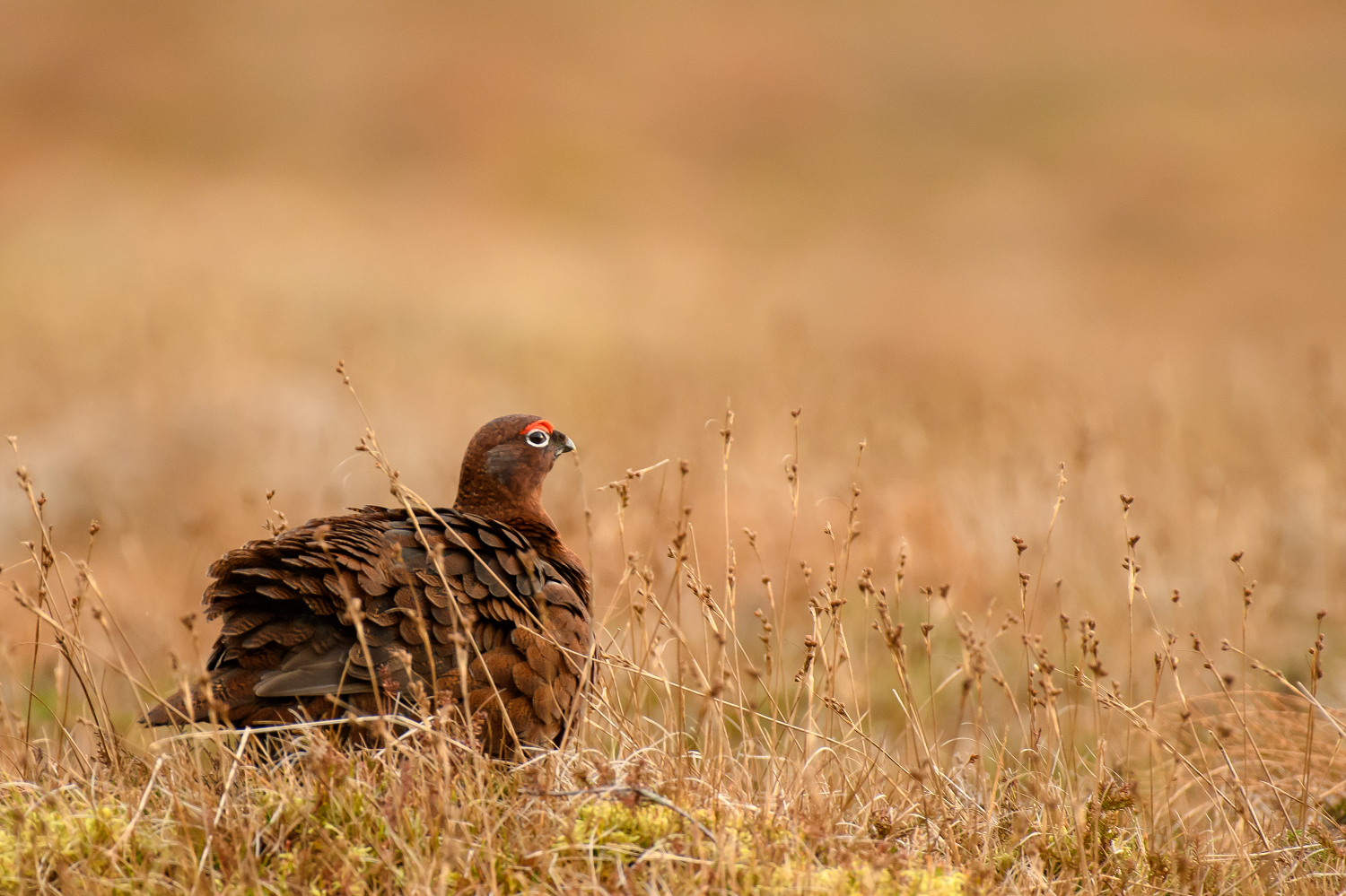 But I digress, I should really talk a bit about what happened! So the trip started out with meeting David and his trusty Landy a good hour and a half away from home, just within the confines of the Glenlivet estate. We rumbled, rocked, and rolled across all sorts of snowy, icy, muddy, terrain into the Ladder Hills SSSI; an experience in and of itself if you've never gone off-roading before! As we approached the end of our four-wheeled journey, we came across some spectacular Red Grouse. A mixture of young and old males were swanning (grousing?) around in the heather, chasing female partners as well as rival males across the plains. Every so often we stopped for a short while to admire them and take some shots, and the birds for the most part were quite confiding (not the best trait for a gamebird, really!). When we'd had our fill, David parked the Land Rover up, and we gathered our bits and pieces to begin our trek up into hare territory.
In Scotland, mountain hares tend to appear on ground above 300m, which really doesn't sound like a lot, unless that 300m is up at a 45+ degree angle! As our trip was in the afternoon, it was around the time the hares were becoming active; they'll leave their shelter (or "forms") to climb the hillside, producing larger densities closer to the peaks. This meant that our hike was increased a bit, as getting near to where the hares would be was a little closer to 500m than 300. Intrepidly, our merry band of five began the ascent, quickly finding that the marshy ground from the recent melt was going to make this a tougher climb than we had first thought! David gave us plenty of rest stops, however, taking time to tell us more about this Special Site of Scientific Interest, the landscape, and even the flora we were encountering on our climb (can you believe I'd never smelt Juniper berries before today?). We even had a brief encounter with some Roe deer halfway up; though after they'd caught scent of us, they weren't for sticking about. After about an hour on the hill, we had huffed and puffed our way up high enough to encounter our first hares.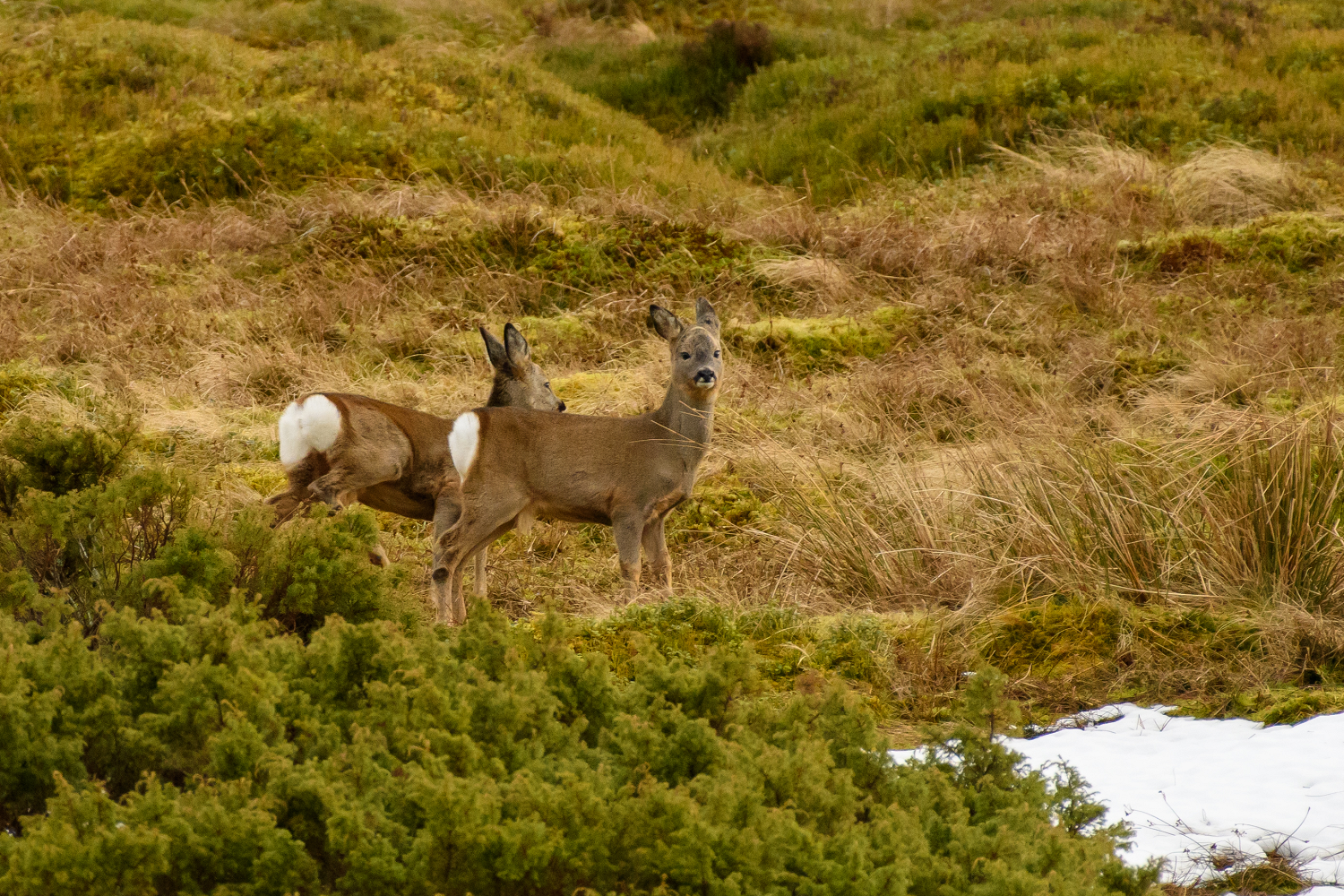 Within view, there were 5 hares; three were engaged in a game of chases near the snowy hilltop, another was looking out over the hills to our left, and the last was perched in a shallow form a fair bit up the hill, but not quite at the top. We flopped onto a heather-shrouded mound, taking a few distant record shots of the hares and using the slight vantage and cover we had to scout for any others in the area. David, being the seasoned hill-side veteran he is, got up to go for a wander while we watched, taking his binoculars to scan the verges to our right for any activity. At this point, I was just thankful for the extended break, as my ankles felt like they were going to break under me if we were to climb any further! Out of seemingly nowhere, a single hare went firing past us, up the hill and out of range like a shot. It was gone before group-mate Michele could even say "hare!". After a while of watching at a distance and seeing every hare in sight disappear up and over the ridge, David returned and we set off once more, slightly renewed.
Our closest encounter was a real near-miss! Near the end of our 3 hours, David spotted a hunkered down hare under a bush slightly further up the hill from where we'd stopped. He pointed it out to us from a fair distance, and even I had to squint a bit to spot him! This time, however, Michele and I would be using our best Mission Impossible moves alone to get a little closer. With a nod, we decided on a plan of action, and started to climb through the snow, the slush, and the mush, to reach the cover of some junipers of our own. We were still a good 30m or so away at our first stop, so we took a few shots, and continued on. This stop-start sneak went on for quite a while, as we were nice and slow so as to not spook the hare. After catching our breath about 20m away, having army crawled the last 10m or so, we decided to try our luck and crawl to the last bit of cover at the 5m mark; it was easily do-able, and the hare was relaxed and half-asleep. As we approached the brush, however, like coiled springs, two more hares went bouncing up the hill! They had been totally invisible to us, silent an blending in perfectly to the snow until they moved. Unfortunately, our target hare got a fright from the action and chased after them. Michele and I collapsed back into the heather with a laugh, realising that, despite our best efforts, we were defeated.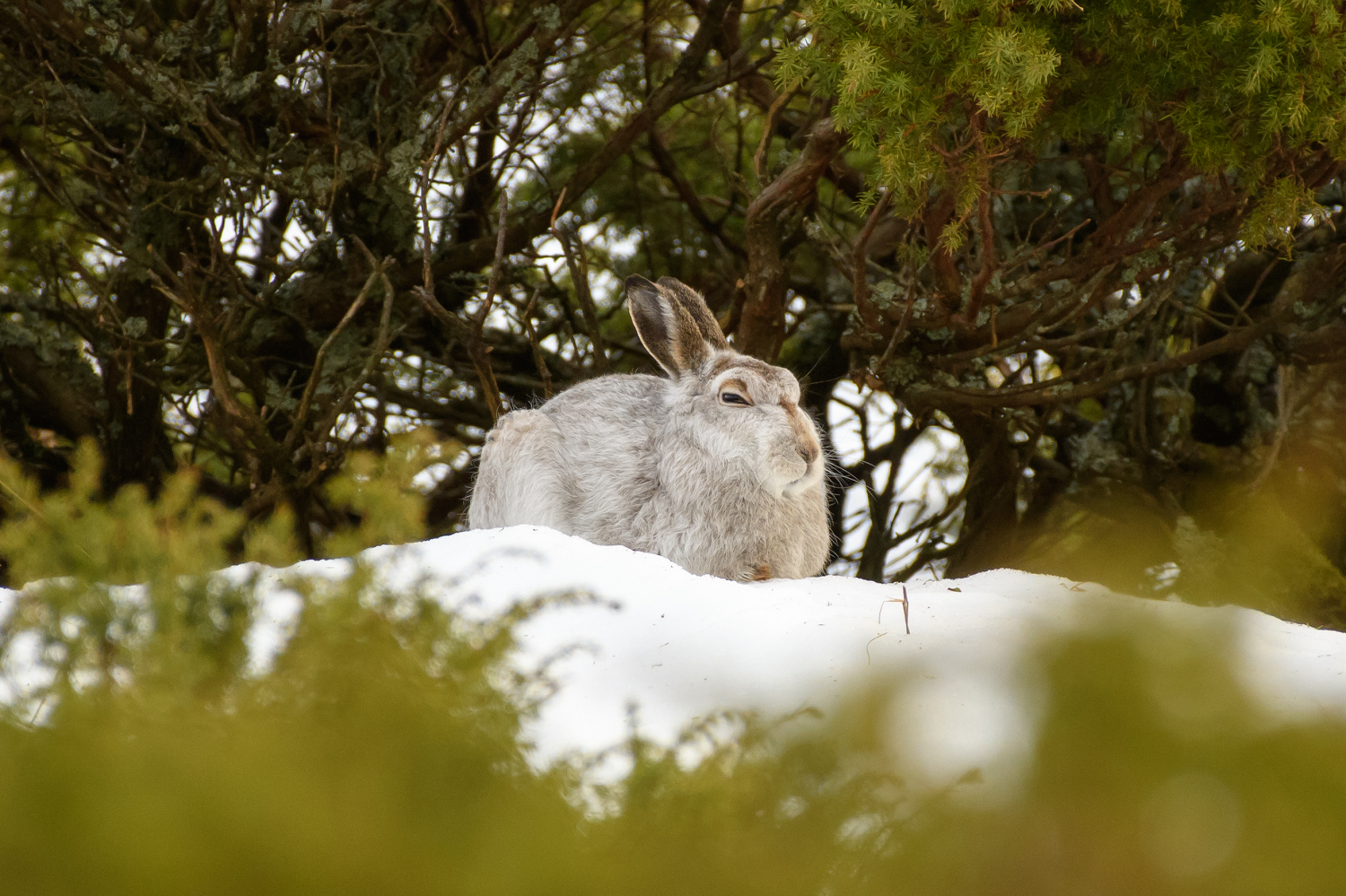 We retreated back to the Land Rover after that, where David treated us to some tea and biscuits, which were truly welcomed after the trek. It had been a tiring experience for us all (except for David, who looked like he'd just been for a short jog round the block!), but one filled with learning experiences. I feel a bit better prepared to go into the hills, knowing what to look for and how to approach, which was (aside from pictures) the goal for me today. The welfare of the wildlife comes first, and the more you know about that animal, the better your relationship with them will be. My relationship with my ankles however... well that's a different story. Ouch!